Welcome to Studio Kurbits, I´m so happy you found your way here and I hope you will love what you find here as much as I love creating my unique tableware and artworks.
If you are interested in purchasing any of my creations, please go to my Etsy site, that page works so much better for international customers regarding shipping options etc.
You can also contact me through email at kontakt@studiokurbits.se or give me a call on 0046-762392278. I will gladly help you out.
If you find something here on my Swedish site or on my Instagram that you like, please do not hesitate to ask, I ship almost all things, I just don´t always find the time to add them all to Etsy since I run this company as well s study full time to become a teacher, and since many of my creations just end up in my physical store in Falun.
If you are interested in knowing more about Studio Kurbits and who I am, I will tell you a bit more below.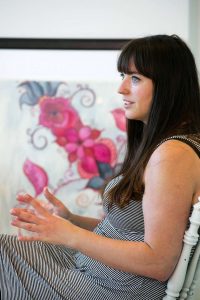 My name is Pernilla Nordman, I´m a happy, colour loving, creative soul with a passion for clay, patterns and creativity. I decided at the age of 12 to become a potter/ceramic artist when I had my first meting with clay during an art class in school. I decided then that I was going to be a potter and a teacher, since I also love languages, and so I could work with art and creativity in my own company and inspire children to work creatively and grow too. I got my potters education at a beautiful school called Capellagården on the island Öland outside Sweden in 2008-2010 and started my company 2012. I have beEn running my company on the side to my teacher studies since 2014 and 2019 I got my teachers degree and started working as a teacher.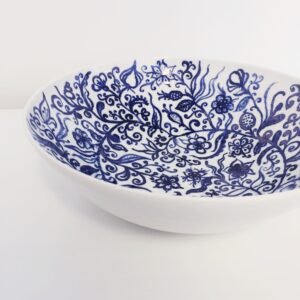 Studio Kurbits is my company for art, courses and ceramics. I gave my company this name because a studio is a space where creativity can flow and you can change in different directions. Kurbits is the name of a decorative flower with its origins in my home Dalarna in Sweden. The kurbits flowers were painted on walls and furniture to make homes beautiful when wallpapers still were to costly. The name comes from the latin word Cucurbita– which means pumpkin, something you can see similarities to in how the flowers grow and fill up space in the old paintings. My ceramics is created by hand in my studio in Falun. Most pieces are wheel thrown and most pieces are unique and one of a kind since I love to let the moment take me into the creative process, making all patterns and details different. My big passion is patterns as you probably know by now. I put patterns on everything if you let me-I find my inspiration in the nature, in folk art around the world, in positive affirmations and in my roots in Dalarna, Sweden. My motto is that "the hand should be visible" a quote my grandfather often used. I'm not a machine and things I create are created by hand with a lot of patience and love so that you can find a piece that speaks to you to make your home unique and special and hopefully encourage you to a moment of thought and relaxation. Aside from working with ceramics I also paint watercolours, renovate and personalise furniture, paint wall art on requests and more recently I started working with taking my ceramics into the art world and up the walls in detailed tile works. You can see some of my different works under my portfolio.
Anything else you would like to know? Just contact me and I will do my best to sort it out for you.